According to bowlingball.com, the average adult female usually bowls with a 10-14 lb. ball.
Michele's a bit on the small side, so until Timothy's birth, where she stepped up her game a bit, she'd been playing in the 9-10 lb. range.
With the latest little Boling Ball

weighing in at 11 lbs. 8 oz and measuring 23" in length, she's definitely in the pro league.
---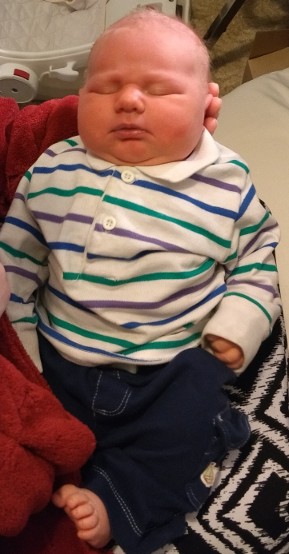 Christopher Isaac Boling was born on New Years Day, 2019, at 10:00 AM. He let us wait until 7:30 to call Laura, our midwife, so that she actually got to enjoy the drive down from Chehalis (and back) in the daylight! -- what a great concept for babies, eh? More of them should do that.
The official due date was Jan 4, but Christopher was definitely ready to be born. His proportions and appearance don't say "newborn", but more like "TV newborn". He's well-proportioned and very solid looking -- more human, less alien. The lack of an oversized head was nice during delivery, but the rest of him...oh my, those shoulders! It was a pretty tough struggle for both Michele and the baby, but he finally gave into our insistence, made the commitment, and leapt into this world. It took a bit of coaxing to get him to breathe this new thing called "air", but once he finally bought into the idea of breathing, he decided that that was pretty good too.
Michele was grateful to have him on the outside, too. He's spent the last couple of months trying to be simultaneously inside and outside of her ribs, and making life rather uncomfortable. Her organs aren't quite sure what to do, no longer having to fight a pro-size Boling Ball for space, but I'm sure they'll get used to it again. This announcement's not as prompt as previous ones have been, because Charles had been busy with work and hadn't prepared anything ahead of time, and we all needed more rest.
Hmmm...reddish hair, fair skin, A+ blood type...time for us to think about getting the ol' hill-bili lights back from the couple that they're on loan to.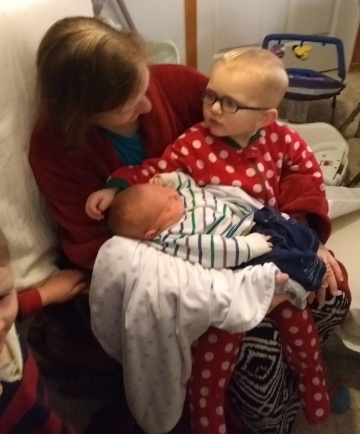 As I write this (the morning of Jan 3), our other children haven't yet gotten to say hello to their new brother, but are looking forward to doing so before they head up to Grandma & Grandpa's house for a 3rd day of fun. We're grateful for Christopher's arrival, for both his and Michele's health, and are anxious to get to know this new spirit that the Lord has allowed to join our family.