Home
Announcing the arrival of our 7th child
:
William Spencer Boling
(Yes, he has a name!
*
)
Following the same path as the last 3 of his 6 older siblings, he was born at home (and at night) on September 27, 2009 at 4:15 AM, after a mere 3 hours of not-so-bad labor. (Can you tell it's the father writing this?)
Yawn? Martial arts move? or simply
"Stop taking pictures!"?

Born 13 days before his official due date -- and a good thing -- he looked like a fairly typical 2 week-premature newborn, except for weighing in at a solid 10 lbs, and measuring 23" long. Head was 15" around -- an inch larger than Steven's.
We thought that Steven had "the shoulders of a football lineman", but
this
guy was tough! He almost won the wrestling match with the midwife (she did pull a muscle during the event), and managed to come out with only a few bruises.
It was our shortest delivery by far, but was still pretty intense. Michele was happy to be able to go to bed and get some rest.
We knew before we went to bed the previous evening that his arrival was imminent, because Daddy's glasses broke while he was laying in bed reading! (They
broke in half right before Steven's delivery
) Fortunately, we had spare parts and were able to repair them this time....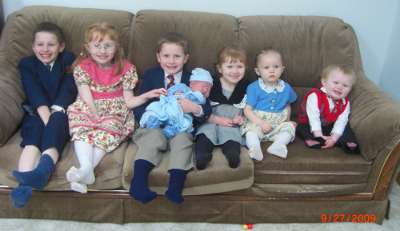 The children are thrilled to wake up to a new brother!


*William opted not to postpone his arrival while we tried to decide upon a name for him. He was nameless until about an hour before we left for church in the afternoon, when the older four children excitedly and unanimously voted for William Spencer; William in honor of their great grandfather, whose 100th birthday our family recently drove 2,700 miles to celebrate.



Like Steven, he's an A+ blood type, so he will almost certainly be yet another user of the famed hill-bili lights. Best investment we ever made....

back to last year's content (Watch for a family update at the end of this year.)