Announcing the arrival of
Steven Richard Boling
(our 6th child)
He was born at home on July 10, 2008 at 3:10 AM (Why does Michele

never

go into labor at, say, 7:00 AM?) following less than 4 hours of productive labor.


He's our 3rd child to land right on his due date
(How do you like that?)

He had a little bit of a tough time making the passage;
he was 9 lbs., 2 oz.,
with the shoulders of a football lineman,
a 14.5" chest (and a 14" head),
and was 21" inches long.

Of course, Daddy's glasses broke in half right before the delivery, a light bulb blew, and a few other minor fun events occured, but all's well that ends well....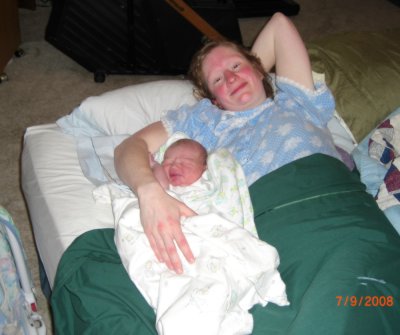 Mother, Father and Baby are rather tired, but doing fine!


Steven was our 3rd home birth, and the 3rd with our midwife, Laura Hamilton. It was kind of nice to have Amber in the house in case any of the other children awoke and needed assistance. Now the children get to spend a couple of days playing at Grandma and Grandpa Cooke's house, while we three rest up and get acquainted.

He has the same bload type as his father, so he will likely end up being another consumer of the famed hill-bili lights.

back to other current content